VENICE BY RUN thanks all runners that enjoyed the Opening Season Run and Cantieri Biasin that hosted the after-run party…keep running and keep following us!!!
This is the Opening Season RUN 2015: save the date, prepare your gear, come to run and have fun!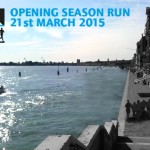 UPDATE: due to logistic factors the path will be shortened to 5 km. But it's enough!
Here we are, ready to celebrate the spring arrival and the official VBR Opening Season with a nice run.
What: we will run together along a custom designed tour through unusual Venice areas and later relax with the after-run Party.
When: 21st March 2015 @11:00 AM
Where: Cantieri Nautici Biasin, Cannaregio 3535, Venice
We do thank Cantieri Nautici Biasin to host the event and the after-run Party.
Click on the JOIN US button below to get your free invitation card.